---

Multi-function wireless adaptor! - Yokogawa has announced that it is releasing a newly developed multi-function wireless adaptor on the 1st December 2014.

RFID systems optimised for railway servicing and maintenance! - Radio-frequency identification (RFID) systems from Harting offer an optimal solution to a number of challenging problems in the servicing and maintenance of modern railway systems.


"Better, bigger, busier!" report on environmental show - It is harder than ever to prize people away from their desks and laboratories these days, so it is all the more gratifying that WWEM continues to grow, with this year's event attracting 15% more visitors than WWEM 2012 - that's consistent growth with every event since the first in 2005.

HMI & Control at SPS14 - A cost-effective and reliable HMI featuring a high-quality display and more realistic images! Cost effective controller with high reliability, integrated network communication capability, and motion control functions for advanced automation solutions.

Remotely monitoreing and controlling EtherNet/IP-equipment - The Netbiter Remote Management solution from HMS Industrial Networks now allows automation devices using EtherNet/IP to be monitored and controlled via the web.

Paddlewheel flowmeter
- Blue-White Industries' BW DIGI-METER® Micro-Flo with analogue output displays flow rate and accumulated total flow, and features 4-20 mA / 0-10 VDC circuitry for low flow applications.

Mobile monitoring, visualising and analysing real-time plant & industrial process data. - The updated version of Wonderware® SmartGlance™ 2014 R2 mobile reporting software includes a host of new features that make monitoring, visualising and analysing real-time plant and industrial process data via mobile devices easier than ever.

New member for British Manufacturing Technology Centre! - Stemmer has become a member of MTC, the British-government funded Manufacturing Technology Centre.

CC-Link IE leads the way to Industry 4.0 - One might argue that a technology becomes mainstream when politicians begin debating it. The German chancellor, Angela Merkel made a very interesting statement about Industry 4.0 during the national IT Summit that took place in Germany at the end of October says John Browett, General Manager of CLPA-Europe at SPS/IPC/Drives.

Signal conditioners enable plants to reduce operational costs! - Eaton has launched a new series of signal conditioners for safe-area applications - the MTL1000 Series. Process managers can now specify Eaton's signal conditioners for all areas of their plant, enabling them to reduce the complexity of their supply chain and save on operational costs.

Pressure sensors for ATEX zones. - The range of high performance, pressure sensors from Kistler Instruments are now available certified for use in ATEX Zone 0, intrinsically safe and Zone 2, non-incendive hazardous areas.

Safety award for interface modules - The SSX and SST Safety Isolators and Splitters by Moore Industries, have received the 2014 Safety Award for Interface Modules from exida, the global leader in functional safety certification for the process industries.

Vision system reduces chance of product recall - A leading manufacturer of OTC healthcare products has commissioned a 5 camera inspection system on a cartoning machine with two separate leaflet feeders to ensure that cartons not only contain a patient information leaflet but that it is also the correct one.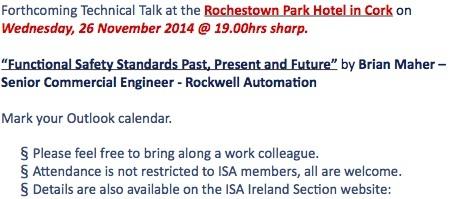 Miniature dew point transmitter for refrigeration dryers! - The EE354 in-line transmitter from E+E Elektronik is specifically optimised for dew point monitoring of refrigeration dryers.

Extended out-of-the-box functional scope to more efficient control of processes! - Actavis, the fast-growing generics manufacturer, has upgraded to the latest PAS-X Version V3.1.6 at their Bulgarian site in Dupnitsa.

RTU and HART configuration suite for remote applications - OpenEnterprise™ Field Tools from Emerson, is the world's first Remote Terminal Unit (RTU) and HARTĘ configuration suite that enables local and remote configuration and real-time HART device monitoring in remote oil and gas applications such as wellhead automation, flow measurement, and tank overflow protection.

Multi-purpose safe area modbus scanners. - The Vantageview PD6730X Modbus Scanner, from Precision Digital Corporation, is a rugged, NEMA 4X/IP65 Modbus master, slave, or snooper (sniffer).

Integrated production control system! - Yokogawa Electric Corporation is developing the CENTUM® VP R6.01, an enhanced version of the company's flagship integrated production control system, and plans its release in February 2015.

Advice on HCFC ban! - From 1st January 2015 it will be illegal to use any recycled or reclaimed ozone-depleting hydrochloro-fluorocarbon (HCFC) R22 refrigerant gas to service cooling units. Rittal advises!

A cool way to keep your hands warm while touching your screen! - Touchability, an innovative company specialising in touch-screen gloves has launched an extensive product range in time for the Christmas rush, with its newest being the superior 'full touch glove.'
---

---
If you put in a link to the Instrumentation Signpost you are entitled to a free listing in our Reciprocal Links page.
---
---
---
Implementing Business To MES Integration Using the ANSI/ISA95 Standard (IC55)
ISA95/IC55
20/11/2014 to 21/11/2014
Moscow (R)

---
SPS/IPC/Drives 2014

25/11/2014 to 27/11/2014
Nuremberg (D)

---
11th International Power Electronics Exhibition

25/11/2014 to 27/11/2014
Moscow (R)

---


Training
26/11/2014
Dublin (IRL)

---
Implementing Business To MES Integration Using the ANSI/ISA95 Standard (IC55)
ISA95/IC55
27/11/2014 to 28/11/2014
Eindhoven (NL)

---
Using the ANSI/ISA99 Standard to Secure Your Control System (IC32)
ISA99/IC32
27/11/2014 to 28/11/2014
The Hague (NL)

---


Fluke Acadamy
27/11/2014
Dublin (IRL)

---


Training
2/12/2014 to 3/12/2014
Dublin (IRL)

---
Pollutec 2014
26th international exhibition of equipment, technology & environmental services
2/12/2014 to 5/12/2014
Lyon (F)

---
Batch Control Using the ANSI/ISA-88 Standards (IC40)
Course ISA88/IC40
8/12/2014 to 10/12/2014
Eindhoven (NL)

---


Training
9/12/2014 to 10/12/2014
Dublin (IRL)

---
Industrial Automation India

10/12/2014 to 13/12/2014
New Delhi (Ind)

---
Implementing Business To MES Integration Using the ANSI/ISA95 Standard (IC55)
ISA95/IC55
11/12/2014 to 12/12/2014
Eindhoven (NL)

---
Using the ANSI/ISA99 Standard to Secure Your Control System (IC32)
ISA99/IC32
14/12/2014 to 15/12/2014
Kuwait City

---
Using the ANSI/ISA99 Standard to Secure Your Control System (IC32)
ISA99/IC32
18/12/2014 to 19/12/2014
Eindhoven (NL)

---

Gas detection sensors. - The enhancement of its existing range of gas sensors has been announced by Edinburgh Sensors. In addition to CO, CO2 and CH4 the new custom sensors will also include N20 and R125 gas detection.

Are you afraid of Cyber Attacks?

You are not alone!. - Three quarters of surveyed adults (75 percent) across 10 countries say they are fearful that cyber hackers are carrying out attacks on major industries and sectors of the economy in their countries, according to the results of a study announced recently by Honeywell Process Solutions.

Wolfgang Andorfer is joining Design LED Products as Chief Sales and Marketing Officer, responsible for developing the company's core business.

Automation Revenues Maintain Momentum in Q3! - ARC Advisory Group includes the most recent quarterly results for automation suppliers that publicly report their results.

Worried about increasing energy prices! - The new ALTOSONIC V12, from Krohne, is the next generation of ultrasonic gas flow meters for custody transfer applications. This instrument is the ideal solution for increasingly accurate flow meters in a world of increasing energy prices.

Humidity calibration in Pharma - Michell Instruments' calibration products play a key role in helping leading pharmaceutical companies satisfy their humidity calibration requirements.

Passive oscilloscope probes operate over wide temperature range. - The Model 702902 and 702906 from Yokogawa are 10:1 passive oscilloscope probes that operate over a wide temperature range from -40°C to +85°C. As a result, they are ideally suited to use in accelerated testing and validation methods where temperature cycling is part of the test procedure.