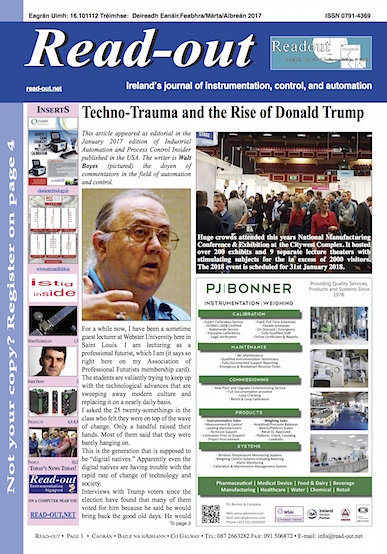 ---

---

---
Site Map












---
Details of awards received by the Signpost are here.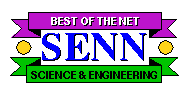 ---
All contents copyright © 2016 Readout Publications
The Read- Out Instrumentation Signpost
Measurement, Control and Automation Resources throughout the World
---
---
Automation News appears on our Facebook Page up to 24 hours earlier than on our news or home pages ! !
---
5/5/2016
Smart Communicator App. - ProComSol has released a major update to its DevComDroid App, an Android based Smart Device Communicator Application for HART instruments.

High-density 2 Amp PXI relay module. - Pickering Interfaces has launched a new High-Density 2 Amp PXI Relay Module.

Sensor manufacturer recognised for excellence. - Baumer Group has earned recognition as a Partner-level supplier for 2015 in the John Deere Achieving Excellence Program. The Partner-level status is Deere & Company's highest supplier rating.

Hybrid laser analyser for continuous gas analysis. - Emerson has released the Rosemount CT5100 continuous gas analyser, the world's only hybrid analyser to combine Tunable Diode Laser (TDL) and Quantum Cascade Laser (QCL) measurement technologies for process gas analysis and emissions monitoring.
4/5/2016
3/5/2016
Global partnership give increased and more efficient MES ability. - Zenith Technologies and Werum IT Solutions have formed a global partnership to support pharmaceutical companies with the implementation of manufacturing execution system (MES) technology to improve production performance.

Two million mag meters plus... - Endress+Hauser has produced over two million electromagnetic flowmeters since 1977.

Canada has oldest solinoid valve! - The Industrial Group of Moog Inc declared Doug Bitner, manager for the University of Saskatchewan's College of Engineering Fluid Power Lab, the winner of its contest to find the oldest operating Moog servo valve after he sent in a video showing lab equipment running with a Moog 21 Series servo valve manufactured in 1963.

75% energy savings in extrusion application. - When Tech Folien Ltd, based in Liverpool (GB), was faced with the issue of obsolescence, which made it extremely challengingin achieving savings on energy consumption, the company turned to Emerson official partner RJW, who designed and installed a solution which delivered energy savings of over 75%.

Optimising steam generation & condensate recovery processes for maximum profit. - Magnetrol International has developed the Steam Generation Cycle and Condensate Recovery Process Optimization Kit to help commercial and heavy industries identify the hidden costs that result from instrumentation poorly suited to their application in these processes.

Datacentre tool box! - A new Datacentre Tool Box from Microlease has been introduced to equip data centre engineering teams and their subcontractors with the varied instrumentation support that they need to complete installation, upgrades and routine maintenance projects in a single package.

Certification for enhanced #FTIR emissions analyser. - The CEMS II e continuous emissions monitoring system from Gasmet has successfully completed EN 15267-3 testing using FTIR technology for the analysis of low range HF, low range NO, CH4 and Formaldehyde.

Stainless steel explosion proof junction box! - United Electric Controls (UE,) has a new 316 stainless steel explosion proof junction box. The box is available assembled with the company's stainless steel product lines such as the compact, dual seal certified, explosion proof 12 Series pressure and temperature switches as well as the hermetically sealed TX200 pressure transmitters.
Aibreán 2016 April
29/4/2016
28/4/2016
27/4/2016
26/4/2016
25/4/2016
22/4/2016
21/4/2016
20/4/2016
19/4/2016
18/4/2016
15/4/2016
14/4/2016
12/4/2016
11/4/2016
8/4/2016
7/4/2016
6/4/2016
5/4/2016
4/4/2016
1/4/2016
Márta 2016 March
---
---