What People Say about us
"Thank you for putting the information on your website so quickly about the MaxStream 9XTend 900mhz wireless radio. In speaking with editors at other technology media groups around the world, I heard that they first learned about the information on your website."
John Crockett, MaxStream August 2004
---
"Puts industrial automation news and views on the web faster than anyone I know.."
---
"...for my money, still the best instrumentation site on the net, especially for Fieldbus.."
Andrew Bond Industrial Automation Insider

Links2Go
Chemical Engineering Key Resources
The Links2Go Key Resource award differs from other awards in two important ways.
First, it is objective. Most awards rely on hand selection by one or more "experts," many of whom have only looked at tens or hundreds of thousands of pages in bestowing their awards. Selection for these awards means no more than that one person, somewhere, noticed your page and liked it enough to select it. The Key Resource award, on the other hand, is based on an analysis of millions of web pages. Any group or organization who conducts a similar analysis will arrive at similar conclusions. When Links2Go says your page is a Key Resource, we mean that your page is one of the most relevant pages related to a particular topic on the web today, using an objective statistical measure applied to an extremely large data set.
Second, the Key Resource award is exclusive. We get literally hundreds of people requesting that their page be added to one or more topics per week. All of these requests are denied. The only way to get listed as a Key Resource is to achieve enough popularity for our analysis to select your pages automatically. We do not accept fees, offers of link exchanges, free advertising, or bartered livestock as inducements to add new sites to our lists. Fewer than one page in one thousand will ever be selected as a Key Resource. (July 2000)
Doras (The Irish word for "door") is the world's most comprehensive directory of Irish sites. It is maintained by Telecom Éireann the State owned telecommunications company.
Born out of the realisation that the World Wide Web must become more user friendly and time efficient, Doras is an online resource exclusive to those interested in Ireland and its myriad of composites.
Your site, The Readout Instrumentation Signpost, has recently been reviewed and given a 3 Shamrock Doras rating. Doras is Telecom Internet's directory of Irish sites, and we have placed your site within the Business category under News and Resources.
In our assessment of the site we have taken into account the following elements; content, functionality, style, innovation and how well the site achieves its ojectives. .
... three shamrock sites are generally strong in content, style and they demonstrate innovation in terms of technology or concept....
This site is a fountain of information and contains something of interest for everyone. It has a page in Irish (leathanach Gaeilge) and links to Irish language pages as well as links to all kinds of weird and wonderful things. "Whatever the information you seek, it is most likely to be somewhere on this site." (May 1998)
Review confirms award - In a recent review update, Doras has confirmed the 3-Shamrock Award given to our site some years ago. Here are the Details of their judgement. (July 2000)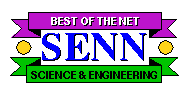 Science & Engineering
Network News
This was a monthly which provides news and reviews of Internet resources for engineers and scientists. If you contact them tell Shari Worthington (Editor) that Readout sent you and you will be sure of a big welcome.
Finally I came across a link to The Readout Instrumentation (http://read-out.nrt) signpost on AACC's home page. This site is run by Eoin O'Riain, editor of Readout, the only instrumentation and control journal published in Ireland. Besides links to the Internet Directory of Instrumentation and Control, information is available about vendors, acronyms, professional organisations, education, research, standards, USENET newsgroups, and list servers. The keepers of the Readout site have even been gracious enough to include a link to SENN, along with some nice words about our humble publication. But best of all, theres a Virtual Irish Pub right there at the site; the pints are a bit warm, but not nearly as warm as the hospitality. Cheers!
Readout 8.0- P.J.Rose - Contributing Editor
Remember the early "bus wars?" I'll never forget Data Translation's famous Fred Molinari ads where he wore bus driver hats featuring Q-bus vs Unibus vs ISA bus vs STD bus vs Multibus! But the old bus skirmishes were nothing compared to the confusion generated by today's Fieldbus Wars. At issue is control of the lowest level of the manufacturing floor and development of a standard interface for connecting sensors to each other and to distributed computing systems. This war has raged for years and ISA has gotten little accomplished in their SP50 standards effort. But at least you can see what the competing groups have to say about their troops. Visit The Readout Instrumentation Signpost in Ireland and check out their Fieldbus page, http://www.iol.ie/~readout/fieldbus. Here you will find brief descriptions and pointers to the online efforts of the major factions, including ARCNET, CAN, DeviceNet, HART, Lon-Works, and Profibus. There's even a listing of upcoming conferences.
>Fieldbus Page 8.5"