---

Working for a world where no one lives in poverty, fear and oppression
---


Support the poor and disadvantaged at home
---
---
---
All contents copyright © 2004 Readout Publications
---
After all that browsing do you fancy a drink? Visit the internet's only authentic

Irish Pub.
Come in, sit down, and have a pint. So then... what do you fancy? Some light entertainment, scientific discussion, or maybe a fiesty argument over political issues.Or maybe you'd just like a cool refreshing Baileys Irish Cream and today's

.
Perhaps it's too early for a visit to the pub and you would prefer a Sizzling Irish Breakfast and maybe even order the real thing for delivery in America!
Mayby you would like to trace your ancestors. Have a look at the Irish National Archive Site where there are also links to other archive sites.


Or maybe you like Art Nouveau or Art Deco products available from Mitofsky Antiques.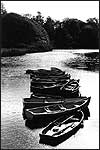 Giles Norman produces the most beautiful evocative photographs of Ireland.
The Read-Out Instrumentation Signpost
Measurement, Control and Automation Resources throughout the World
---
---
Last changes to this page: 7/8/04

---
If you are bored with Instruments!
A page for those who ask "What exactly are instruments anyway?
Background for the border on the left shows a Galway Bay Hooker in full sail.
---
There are some useful things to be seen in the eleven languageEuropean Union's Home Page.

The language of Ireland is Irish (Gaelic). This is an ancient Celtic Language and is related to the Celtic Languages of Scotland (Gaidhlig), Isle of Man, Wales, Cornwall and Brittany. Here are some links to Irish Language Sites.

---

If you collect stamps and would like to exchange them with worldwide collectors here are some addresses.

---

We have also included a Spiritual Page which includes a CyberShrine.

---

Some other Interests!

Birds of Ireland


Missing Irish People
Have you seen any of these people?
---
If you want a nice place to stay in West Connemara we recomend Lough Fadda for a really warm welcoming stay in the most beautiful part of the West - well so we're told!