---
---
---
---
---
---
Details of awards received by the Signpost are here.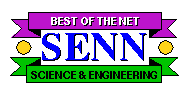 ---
All contents copyright © 2000-7 Readout Publications
The Read-Out Instrumentation Signpost
Measurement, Control and Automation Resources throughout the World
---
---
Last change to this page: 20/11/2007
---
Books
These are some sites where I&C books may be purchased over the world wide web. If you purchase tell them that we sent you!
Instrumentation and Control Periodicals
---
American Technical Publishers Ltd is an English based outlet for many US published works and standards including ASTM and ISA.

Cahners Manufacturing Group have an IndustryStore, which is offers manufacturing-specific books at discount prices. It features titles relating to all aspects of manufacturing, engineering and product development.

Feed Forward Publications - E Book Publishers of Industrial Engineering. "Best practice maintenance, reliability, engineering and manufacturing Training."

MotorControl.com is a bookstore site for engineers with interests in motor, drive, and motion control.

IDC Technologies is a premier provider of practical, technical training and training publications for engineers and technicians. These publications cover various areas from industrial data communications and networking; instrumentation, automation and process control, to information technology and project and financial management. Publications may be ordered through their Web Order Form.

IEC Webstore where internationsl standards and other related publications may be purchased.

Interpharm Press specializes in publishing books in the areas of applied technology and regulatory affairs, with primary audiences of professionals in the pharmaceutical, medical device, diagnostic, and biotechnology manufacturing industries.

The biggest publisher of books in Instrument and Control is ISA - the Instrumentation, Systems, and Automation Society. Their Book Store contains all the details. CDs, Videos and training materials are also available as are copies of Instrumentation Standards. Discounts are available to ISA members.

Publicis-Erlangen Books have a series of automation books primaraily on Siemens technology. (Language mostly German).