Calibration, sailing and flow
The third quarter issue of Read-out, Ireland's journal of instrumentation, control, and automation, has just hit the streets! There are several Irish stories highlighted which show the diversity of applications and companies operating here which use or assist in the application of automation in various sectors.
Calibration
The first story tells of the cooperation between Emerson Process management and Beamex and how their integrated solution increases calibration accuracy and streamlines tasks for the Cork plant of GlaxoSmithKline. The integration of Emerson's AMS Suite predictive maintenance software application with Beamex CMX Calibration software increases calibration accuracy and streamlines tasks at this pharma facility. This was featured in the first European Emerson Global User Group event held in May in Duesseldorf.
Sailing
The first week of July saw the return of the Volvo Ocean Race to Galway, a mere twenty miles or so from the Read-out offices. The communications network, fibre, cellular and wireless was provided again by the Galway-based B&B Electronics Europe. Because this was the final destination in this epic race rather than a call-in port, as in 2009, the logistics were phenominal. Our story quotes B&B MD Jerry O'Gorman, "This installation really pushes the edges!"
Pharma & food
Multiplex Engineering is an independent company focusing particularly on the food, dairy and pharma industries so vital in the Irish industrial scene. Declan Coughlin, one of those behind this enterprise told Read-out that the company concentrates on "Getting the job done!"
Flow
Among the product stories were a number on flow. The new generation of Siemens Coriolis flow meters is a digitally based flow solution with a short built-in length for liquid and gas applications. Sierra's new SmartTrak 140 mass flow controller is designed top provide precise, high performance mass flow control with the lowest possible pressure drop on the market. The launch by Yokogawa of their AXW large size (500 to 1000mm) magnetic flowmeters is also recorded as is the new OptiMass 6400 from Krohne.
Other products covered include the Blue-White Chem-Pro C2 & C3 metering pumps, and the Stahl Visualisation Stations as a "future-proof" investment.
The new catalogue now available from Burkert, provides a quick and easy aid for selecting valves & sensors for the food, pharma, water and other sectors.
There was also information on training courses and seminars to be held shortly including the International Industrial Communications workshop scheduled for September in Limerick and the AMIS Masterclass also in September but in St Francis Abbey Brewery in Kilkenny.
The usual features on people, including appointments, awards, and obituaries are covered including ISA events which is one of the most popular sections of Read-out.
It is possible to advertise both in Read-out, Ireland's journal of instrumentation, control and automation, which circulates to approx 2500 named automation professionals throughout Ireland, and on the Read-out Instrumentation Signpost, which is visited by up to 6000 visitors per week. Rates (in Euro, Pounds Sterling or US Dollars)
Read-out is generally distributed free of charge within Ireland but due to high distribution charges outside we regret a small charge is made for subscriptions in other countries. Subscriptions may be made using Paypal here.
Our facebook "fan-page" lists most stories we receive even those not included in our printed publication.
---
Who reads Read-out? [] Advertising Rates

Our facebook "fan-page" lists most stories we receive even those not included in our printed publication.
---
Who reads Read-out? [] Advertising Rates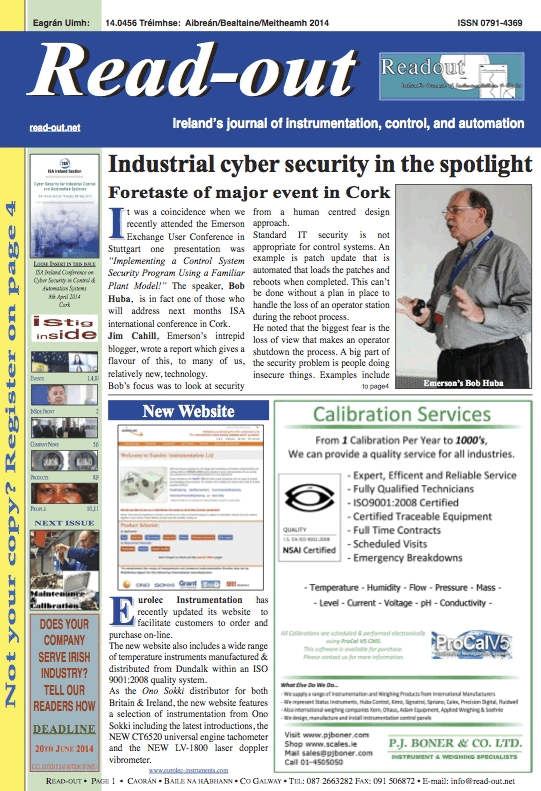 Current Issue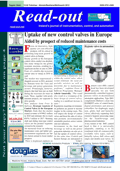 Previous Issue
---
Read-out quoted!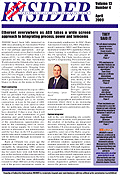 The following appeared in the August issue of Nick Denbow's Industrial Automation & Process Insider.
Eoin O'Riain, from Galway, is delighted to report a big happening in Galway Bay, in the latest issue of his magazine, Read-out, Ireland's Journal of instrumentation, control and automation. Last month it was the Finish Line for the Volvo Ocean Race, with the yachts crossing the line in the early hours of July 3rd. More than 800,000 reporters and spectators descended on Galway for the nine day festival built around the event. Apparently even the upgrades Irish telecoms had to install when Eoin's Read-out twittering and news website moved to Galway was not able to take the strain produced by 800,000 visitors! So B&B Electronics had to install a major network and communications infrastructure for the race teams, media, and event management, including crowd management, security, credit card feeds, and big screen displays around the whole bay.
The latest issue of Readout, edited by Eoin O'Riain info@read-out.net, advises that Astellas Ireland is to implement Werum PAS-X MES at its production facility in Killorglin, County Kerry. The MES is planned to introduce state of the art paperless Electronic Batch Recording functionality, supporting compliant, efficient and lean production processes. The MES will be fully integrated with the SAP ERP system, and the shop floor equipment and process control systems. The MES will be rolled out to all production operations in phases.
INSIDER is published and written/edited by Nick Denbow