Calibration, maintenance, test and measurement...
---
Advertisers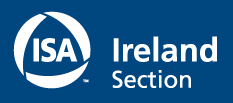 ---
Some Items Blue-White's Peri PumpFarnell's focus Cottner's remote control Westermo's Ethernet line extenders E+H's growing family Madgetech's freezer validation system E+E's condensation monitor

In the February/March issue of Read-out highlighted the calibration, test and measurement sector of automation. It leads with the story of the gradual expansion of Hach Lange in Ireland which provides a complete service throughout the country.

The usual InsideFront article has a word for trainers from MCP's Senior Trainor John Saysell in an article entitled "Trainers Please Note!" where he gives ten useful tips for the industrial trainor.

Among the events reported on are a seminar in Belfast last December by Mitsubishi Ireland and the January ProfiBus Seminar held in Limerick as well as the subsequent tour of the Bulmers cider facility in Clonmel, Co Tipperary. It also covers the DeltaV user group meeting held in Cork which had Mick Galwey, the Ireland and Munster International, as a guest speaker.

Among the books highlighted in this issue were two of direct relevence to calibration and maintenance personnel. These were Mike Cable's Calibratation: A Technicians Guide and Greg McMillan's pocket guide, Good Tuning, both published by the International Society of Automation.

There was an article on their automated audio amplifier manufacturing test system by Ahmed Issa and Patrick O'Halloran at the Dublin enterprise Benetel Ltd, a RF/Wireless solutions company specializing in system and circuit design and test.

It also featured an item from Industrial Automation Insider on the use of social media networking, Social Media Works!

This issue also featured news of people and companies in the automation world as well as a wealth of new product developments including:
ASCO Numatics low power Ex d pilot valve,
The first portable, stand-alone multi channel oscilloscope from Metrix
Yokogawa TMI's precision power meters and
Stantronics LCR meters for measuring frequencies.

Read-out is produced every two months and distributed to over two thousand named automation people, managers, technicians, technologists and fitters as well as to training institutions.

It is available on subscription to readers overseas for a nominal charge to cover air postal rates. Readers on the Island of Ireland may receive the publication at no charge on completion of a registration form. Full details are on here on our website.

The next issue of Read-out will highlight final control elements.
---
Who reads Read-out? [] Advertising Rates